INTRODUCTION
INTRODUCTION
---
The department was established in 1988 under the guidance of Professor Dr. N. A. M. S. Sheikh.
This department deals with ---
I) UG teachingin Biochemistry
1) I stMBBS
2) BPMT Ist, IInd & IIIrd Year
II) PG teaching in Biochemistry
1) MD Biochemistry
2) PG-DMLT
3) MPHN (Nutrition)
III) Research work
IV) Central Clinical Laboratory, Biochemistry section, perform various Biochemical investigations of patients visiting Dr. Shankarrao Chavan Govt. Medical College & Hospital, Vishnupuri, Nanded.
MISSION
---
1) The primary mission of the Department is to prepare students with an excellent foundation in Clinical Biochemistry so as to enable them to succeed in their chosen endeavors may it be medicine or any allied health sciences.
2) To provide Laboratory services to patients attending Dr. Shankarrao Chavan Govt. Medical College & Hospital, Vishnupuri, Nanded.
3) To undertake various research projects in the department.
VISION
---
1) The Department of Biochemistry is dedicated to understanding fundamental Biochemical processes and translating these to clinical care.
2) Upgradation of Biochemistry Department with modern equipments required in teaching and clinical investigations in the clinical laboratory - A TURN KEY PROJECT must be undertaken to provide the sophisticated and modern facilities for the patient care
In TURN KEY PROJECT all the instruments should be serially arranged in the centralized air conditioned clinical laboratory and instruments from colorimeter, spectrophotometer, semi autoanalyzer, fully autoanalyzer, Electrolyteanalyzer, Blood gas analyzer, Fully automated Immunoassay analyzer and other related instruments required should be arranged in one and same roof with suitable infrastructure facilities .
For this upgradation expected expenditure is approximately up to Rs. 5 Cr.
FUNCTIONS & OBJECTIVE
Undergraduate –Teaching
---
1. MBBS students 150/Year.Department conducts lectures and practicals programs as per MUHS,Nashik guidelines. Departments also conducts internal and university exams and prepares internal assessment .Knowledge of students also boosted by regular seminars, quiz competitions ,Case discussions etc.
2.Bachelor of Paramedical Technology (BPMT) -Department conducts lectures and practical programs as per MUHS,Nashik guidelines.
Post graduate Teaching
---
1. M.D Biochemistry: 02 students/year.Post graduate teaching and training program consist of working in clinical biochemistry including1 month training in clinical pathology and microbiology .In addition post graduate students have the assignments of investigations.They participate in regular weekly teaching sessions of Post graduate activities, slide seminars, monthly journal reviews, case presentations, microteachings etc. Also didactic lectures for M.D students are conducted in collaboration with other colleagues.
2. Diploma in Medical Lab Technology (PG- DMLT) - The course consist of 18 months, first 1 year consist of lectures, practicals and regular practical training in various laboratories. Last 6 months is all practical training in laboratories.( As Per MUHS,Nashik guidelines.)
3. MPHN (Nutrition)- The course consist of 2 yrs training in the form of lectures in therotical and practical aspects of clinical biochemistry. Internal exams and oral presentations in the form of seminars are regularly conducted by the department.
Central clinical Laboratory
---
Biochemical Investigations Carried Out in CCL round the clock.
Total umber of investigations carried out per year are as follows.
| Year | 2017 | 2018 | 2019 |
| --- | --- | --- | --- |
| No. of investigations | 551701 | 449552 | 289957 |
RESAERCH PROJECT
---
The members of the faculty carry out research projects independently and also in collaboration with other clinical departments.
ORGANIZATION STRUCTURE AND CHART
ORGANIZATION STRUCTURE AND CHART
---
Department has
• Departmental Library:
The departmental library has various 122 textbooks and reference books.
• Departmental Museum:
The departmental museum has metabolic cycle charts and posters, photographs of famous biochemists around the world are available for undergraduate & post graduate teaching.
UG Lab
• Undergraduate laboratory is fully equipped as per norms of MCI with 60 working places for students. (Admission of 150 students are divided in to two batches of 75 each)
• Fully trained technical staff is available to assist in the laboratory work as per curriculum.
PG Lab
• Postgraduate Laboratory is fully equipped as per MCI norms.
• Following instruments &equipments are available for PG Practicals.
1) Electrophoresis apparatus (horizontal)
2) Electrophoresis apparatus (PAGE)
3) Paper Chromatography apparatus
4) Thin layer chromatography apparatus
5) Semi auto analyzers
6) Microbalances
7) PH meter
8) Spectrophotometer
9) High speed cold centrifuge
10) Chemilumunescence
11) ELISA Reader with Washer
Central Clinical Laboratory (CCL)
Biochemical Investigations Carried Out in CCL
Major Instruments available in CCL to carry out above investigations
| Name of instrument | Use for Patients |
| --- | --- |
| Fully Automated Clinical chemistry Random access Analyzer | Fast and accurate analysis of biochemical parameters randomly |
| Blood gas Analyzer | Estimation of blood gases and electrolytes |
| Electrolyte Analyzer | Estimations of electrolytes |
| Semi Auto analyzers | Estimation of biochemical parameters |
| Semi Auto Immunofluorescense Analyzer | Special tests for covid patients Trop-i and D-dimer |
• Regular serum Ferritin test is being carried out for the patients suffering from Sickle cell anemia and Thalassaemia.
• At present a separate laboratory performing special tests required for covid-19 patients like serum ferritin, electrolytes ,troponin –i, serum calcium and magnesium along with other basic tests are being performed.
AWARDS & ACHIEVEMENTS
Publications in national and international journals from department
The department of Biochemistry aims at-
1) Achieving excellence in Medical education
2) To build and maintain a Biochemistry teaching program designed to educate and train students to be competent future clinicians, research scientists and teachers of Biochemistry.
3) To establish a research program that will be committed to generate new knowledge and understanding of Human Biochemistry and translate this knowledge to improve health and disease prevention
4) To provide state of the art diagnostic services through clinical Biochemistry laboratories
5) To offer specialized consultations in Diagnostic laboratories.
6) To promote professional collaboration in teaching and research at national and international level.
FACULTY DETAILS
STAFF POSITION
---
Sr.No
Name
Photo
Designation
Contact
1.
Dr.Ishrat Kareem
Professor and Head
94237 07847
drishratkareem@yahoo.com
2.
Dr.H.N.Khan
Associate Professor
94218 59833
humeranishat@rediffmail.com
3.
Dr.G.S.Manoorkar
Associate Professor
98231 72671
drganeshmanoorkar@yahoo.in
4.
Dr.A.M.Siddiqui
Assistant Professor
98900 55896
mubs10@yahoo.co.in
5.
Dr.L.N.Cherekar
Assistant Professor
94030 32258
cherekarln@gmail.com
6.
Dr.A.B.Warade
Assistant Professor
94040 28848
dr.warade@gmail.com
6.
Dr.S.A.Patel
Assistant Professor
7773960878
shabeenapatel@rediffmail.com
POST GRADUATE STUDENTS
---
Sr.No
Name
Photo
Designation
Contact
1.
Dr.Y.P.Tayade
JR 3
9922217373
yogesh.tayade60@gmail.com
2.
Dr.K.S. Rathod
JR 3
9766838147
kavitasantoshpawar@yahoo.com
3.
Dr.S.S. Kale
JR 1
9850885030
seemadake85@gmail.com
4.
Dr.H.S.Jondhale
JR 1
9834112877
harshadajondhale12@gmail.com
5.
Dr.Priyanka Kadam
JR 1
9604704970
NON-TEACHING STAFF
---
| Sr.No | Name | Photo | Designation | Contact |
| --- | --- | --- | --- | --- |
| 1. | Smt. Pornima Raje | | Steno | 8788364850 |
| 2. | Shri. Moralwar | | Lab Assistant | 9420127907 |
| 3. | Shri. Wadje | | Lab Attendant | 9767852707 |
| 4. | Shri. Raju Lot | | sweeper | 8975720493 |
| 5. | Shri. Jadhav | | Peon | 8806010775 |
| 6. | Shri .Keshav Hambarde | | Watchman | 9518911009 |
| 7. | Shri .Madhav Ingole | | Watchman | 9975010621 |
CENTRAL CLINICAL LABORATORY STAFF
---
Sr.No
Name
Photo
Designation
Contact
1.
Dr.G.S.Manoorkar
Associate Professor cum CCL Lab Incharge
drganeshmanoorkar@yahoo.in
98231 72671
2.
Dr.A.B.Warade
Assistant Professor cum CCL Asst Lab Incharge
dr.warade@gmail.com
94040 28848
3.
Shri.S.H.Mulla
Biochemist
9960228619
4.
Shri .J.P.Raut
Biochemist
8412809725
5.
Smt.M.A.Jogdand
Laboratory Technitian
9860861172
6.
Shri.Suresh Sakinwar
Laboratory Technitian
9960097937
7.
Shri .NazimoddinKazi
Laboratory Technitian
9423790062
8.
Shri.S.P.Gaur
Laboratory Technitian
9405528555
9.
Shri.Prashant Joshi
Laboratory Technitian
8390335069
10.
Shri.P.A.Bhokre
Laboratory Technitian
8857816913
11.
Shri.V.G.Kulkarni
Laboratory Assistant
7798870678
12.
Shri.G.G.Jadhav
Laboratory Assistant
9158152200
13.
Shri.Chandrakant Kawtekar
Laboratory Attendant
9561930846
14.
Shri.D.M.Dhage
Laboratory Attendant
7620645073
15.
Shri.D.K. Bhagat
Peon
9689707443
16.
Shri.Goving Gore
Peon
8698811511
17.
Shri.Laximikant Kalaskar
Peon
8411800674
PHOTO GALLERY
PHOTO GALLERY
---
Fully Automated Clinical Chemistry Random Access Analyzer XL 640
Blood Gas Analyzer
Electrolyte Analyzer
Semiauto analyzers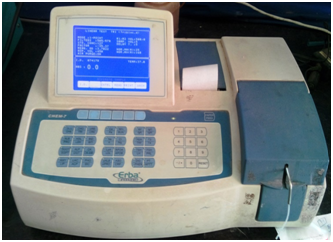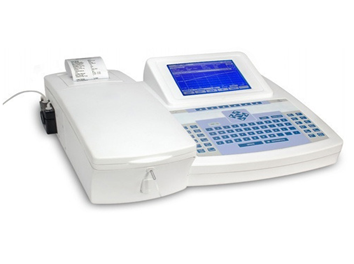 Semi Auto Immunofluorescense Analyzer
| Name | Use |
| --- | --- |
| Overhead Projector. | For teaching & seminars. |
| LCD Projector with laptop | For teaching & seminars |